Portable sheet metal cutting machine
Brief Introduction
Portable sheet metal cutting machine, portable metal cutting machineportable plasma metal plate cutting machine, portable sheet cutting machine, portable plasma metal plate cutting machine
1.Portable sheet metal cutting machine. Available for cutting any complex plane graphics, support for flame and plasma cutting;
2.Portable sheet metal cutting machine, a substitute for manual torch, semi-automatic cutting machine and profiling cutting machine as an upgraded product; especially suitable for high-precision required complex graphics mass production,
3.Portable sheet metal cutting machine can greatly improve cutting efficiency, reduce secondary processing, and decrease the production cost.
Parameters
| | | | |
| --- | --- | --- | --- |
| Input power | 220V 50Hz 220W | LCD | 5.7inch blue-mask |
| Effective cutting range | 1500X3000mm(Longitudinal range can be extended, less than 6 meters) | Cutting speed | 50-6000mm/min |
| Cutting thickness(oxygen) | 5-50mm | Perforation thickness(oxygen) | ≤50mm |
| Cutting thickness(plasma) | According to the plasma power | Perforation thickness(plasma) | According to th plasma power |
| Machine tool working voltage | 220V | Machine weight | 100kg |
| Cutting software | STAR CAM | Arc pressure regulator | Starfire |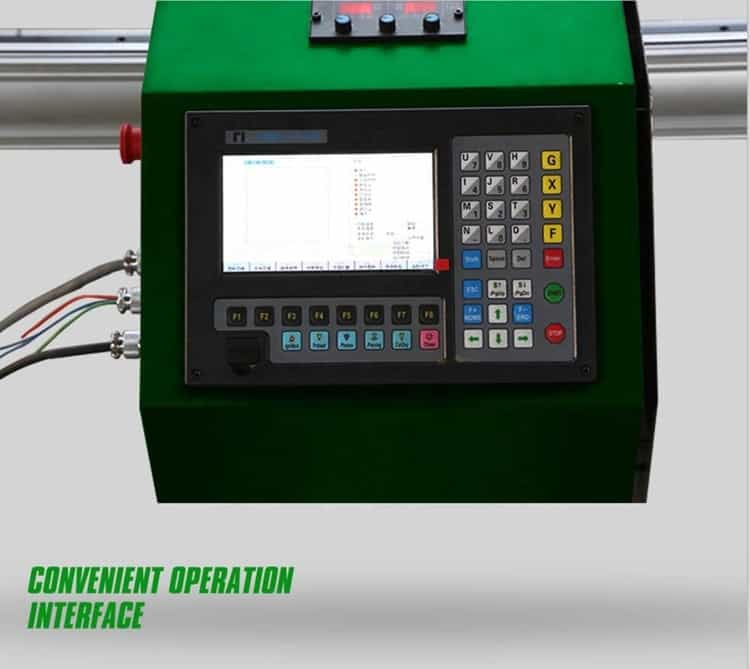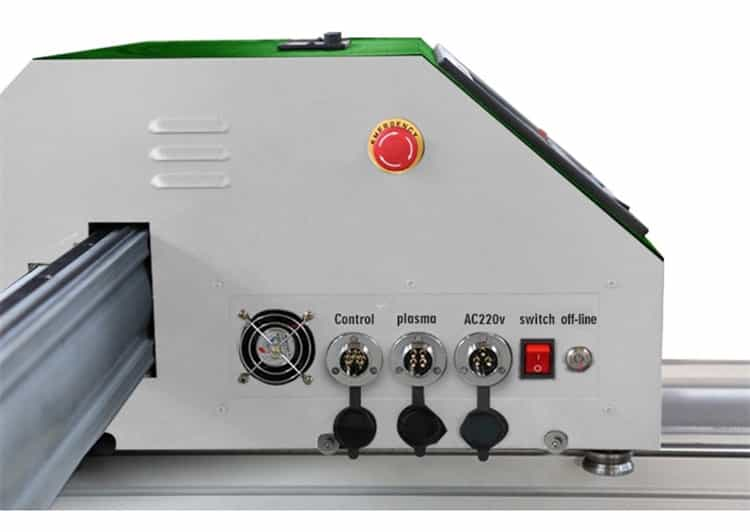 Features
Controller System -F2100B
1)Full Chinese/English menu system
2) 45 kinds of common graphics libraries (including grid graphics), which can choose to set the chip size and hole size.
3)Support EIA code (G code) and FastCAM, FreeNest, SmartNest, IBE and other suite software.
4) Graphic proportions, rotation, mirroring.
5) Graphics can be arranged in matrix, interactive and overlapping ways.
6) Graphic steel plate correction, any steel plate edge can be used as correction edge.
7) The front-end U-disk interface facilitates program transmission.
8)The system upgrade adopts U disk upgrade mode, which is convenient, simple and practical, and provides lifelong free upgrade service
THC-Fangling F1620

Advantages
1. Portable sheet metal cutting machine is small in size, interference resistant. The device uses the Sino-US joint venture specializing in industrial machine control, to be compact and reasonable structure design. Portable sheet metal cutting machine has a light weight, small size, easy to move, and Portable sheet metal cutting machine is suitable for indoor and outdoor, especially small and medium enterprises, improve production material utilization efficiency and reduce production costs
2. Simple Programming Nesting:
Either the manual programming of simple graphics, but also can be arbitrarily complex graphics automatic nesting program was presented by the programming software. Portable sheet metal cutting machine software uses an interactive dialogue, the graphics data is automatically converted, without manual coding, the Auto CAD drawing parts diagram direct deposit, withdraw DXF files, making emissions, select the appropriate program parameters directly after cutting required to generate G-code file
3. Simple operation:
Portable sheet metal cutting machine,when the same operation can be like a semi-automatic car manual cutting, but also the same as the large CNC automatic cutting (you can jog lift).